Florist Marketing Tools
Florist Email Campaigns

Media99 is now partnering with Constant Contact to put the best tools for email marketing at your fingertips. This new partnership offers Media99 clients LOTS of new features and options, including 24/7 support, and much more!
Send Mailers When and How You Want
Schedule mailers to go out by day, time-of-day, or send them immediately. Access the calendar to see what is scheduled at a quick glance. Custom mailer option include hundreds of layout options to fit your needs.
Discounted Rates
Partnering with Constant Contact makes it possible for you to obtain their expansive services at a discounted rate as a Media99 client, providing you an excellent ROI.
Media99 Mailers Available
Mailers designed and sent by Media99 are now available as a part of our new service with Constant Contact. These include all the content you need to get seasonal and holiday emails to your customers quickly.
More Detailed Reporting
Go beyond knowing how many emails went out to find out the effectiveness. Open rates, Click through rates and more are all readily available with each message you send.
Get the Message Delivered
Constant Contact works directly with large email providers such as Gmail to make sure that the marketing messages you send get delivered to the customer. Less messages lost to the spam folder means more potential traffic to your site.
Sounds great! But how much is it?
Your monthly cost is based on the size of your mailing list, and starts for as little as $9/month. As you start sending out mailers, this new system will help verify the addresses on your email list. Removing no longer viable addresses is a snap and makes your marketing more effective. This also ensures your monthly cost is based on the actual number of email addresses that are receiving your content. Fine-tuning your mailing list, hundreds of content options, and highly successful delivery rates are a great combination for email marketing success!
As a florist and business owner you know the importance of marketing. Your florist eCommerce website is no different. Your florist website is your online storefront and silent salesperson. You run specials on flowers you need to move, there are holidays considered florist holidays (Valentine's and Mother's day, among others) and you need the tools that make it easy to let your customers, both in store and online, know about your sales.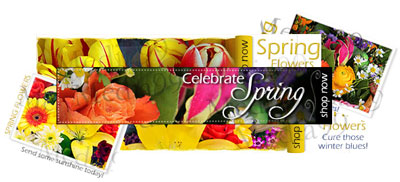 Florist Website Banners
We create several florist holiday related banners that you can select through SiteWorks, which are then automatically activated on your website. Most of these are for the major seasons, big holidays and a few others.
We can also place a custom banner on your website to advertise an open house, a clearance event or a special workshop you are holding at your brick and mortar location. You can submit the graphic to us via the Media99 HelpDesk, or you can request that a custom banner be made.
For custom requests we require a few days notice before you expect to see the banner on your florist eCommerce website, primarily because we have to create the graphic which takes time, and prefer to send you a preview before we place the graphic on the internet for all to see.
Automatic Holiday Updates
We believe that you, the florist, should have a say as to when holidays appear on your florist website. It is your virtual flower showroom. After the holidays have passed it is standard practice for our website technicians to remove the floral occasion from your website categories, making it one less thing for you to have to remember.

We also have a program, called the Automatic Holiday Update (AHU) Program, in which we automatically enable particular holidays on your eCommerce website, this way when those busy florist holidays arrive and you are in the design room sweating away trying to fill all of your orders to get them on the delivery truck, we take care of listing the holiday on your florist website. All other holidays you wish to list are requested through our free HelpDesk. The AHU Program is available free of charge. We don't require anyone to use this program, but most florists find it very useful during those busy times when they forget about activating a category on their website.

The dates for the listing of each holiday are listed in our web-based maintenance software, SiteWorks, so you have a list of dates to reference and to make sure your categories are merchandised and ready to go live by those dates. The rest is up to the people on this side of the computer.